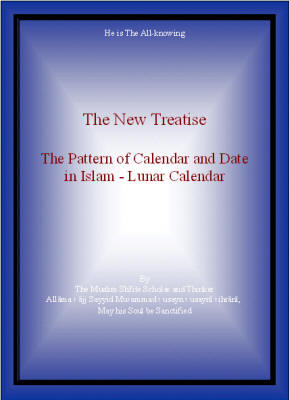 The date and calendar of all Muslims of the world ought to be turned to the Lunar.
Subject of the Book : The Pattern of Calendar and Dates in Islam
■ What impact do calendar and date have on people's life and culture?
■ On what basis should the beginning of an era be founded?
■ Why should the beginning of the nighttime of the day be set at twelve mid-night?
■ On what basis are the daytime hours to be divided?
It is an exegetical, narrational, legal, and historical discussion about basing Islamic dates on Lunar calendar, in which the interpretation of the verse, ﴾Indeed the number of months with Allah is twelve months in the Book of Allah.(9:36)) and the Prophet's renowned sermon in Minā as well as the verse, ﴾nasī' (9:37)) are discussed.
Excerpts from the book:
• Colonialism insists on changing the Muslim's calendar.
• Converting the Lunar month and year to the Solar is not legitimate.
• Solar names of months pertain to Zoroastrianism.
• Lunar months are agreeable to human nature.
• The basis for hour in Islam is the sunset.
• Promotion of nationalism vs. Islam is [equal to] selling out reality for fancy.
• The narrations on Nawrūz are not sound.
Persian & Arabic full text